You're tired of having to write content for your website? blog, social media channels, and email campaigns, so you want to stop. It takes too long to come up with interesting, always up-to-date content. Imagine using Peppertype.Ai tool that makes exciting content for you in a few seconds. Peppertype.ai can help you save time each week by writing new posts for you. All the work has done for you!
What Is Peppertype.Ai?
Peppertype is an AI-powered copywriting tool that is ideal for producing high-quality material. It combines copywriters' expertise and AI to help you create better content faster. A library of popular Copywriting styles such as Simple, Confident, and Inspirational can produced in Peppertype.ai.
You choose the style, a topic related to your subject, and presto, and the content is ready to use!
Artificial intelligence and machine learning technology create your content in seconds.
Choose a topic, click, and write to create fascinating and persuasive material on your own. For your target demographic, the AI engine inside has trained on over 100K pieces of content.
The key benefits of Peppertype.ai
Peppertype.ai reduces the amount of time spent on content creation.
It creates high-quality content in a fraction of a second. It's has a fantastic artificial intelligence content system.
You only need to provide the name of the company and a brief description of the material.
It features a simple dashboard that allows you to see the team's analytics.
You can also write website content including headings, meta descriptions, and product descriptions.
In the dashboard, you can store your content copies.
Enhancement updates .
Peppertype.AI can also used to create video and podcast scripts.
It has excellent customer service.
Peppertype.Ai Features
To extend input words into two unique, exciting, and engaging sentences, use Peppertype. It contains AI features that help you create better content in seconds.
Some Of The Features Are-
You know that good content attracts visitors, customers, and leads. But, writing is a difficult task! We all know that coming up with outstanding blog post ideas is challenging. It's difficult to start developing ideas even when they come to mind.
Peppertype.ai can help you generate an outline for your next blog article in minutes using AI. It creates outlines, subheadings and introductions that you may change or use as-is.
SEO:
It isn't easy to create SEO-optimized meta titles and descriptions. It can take hours to decide which keywords to use, how to phrase them for Google, and then create the metadata.
You won't have to worry about any of this with peppertype.ai. Peppertype.ai will generate all necessary SEO-optimized Meta Title/Description for you!
Social Media Post:
Marketing on social media is challenging. You must write intriguing content for your audience but not too long or confusing. Most of the time, you'll end up wasting time and wasting content.
More at peppertype.ai. Its bot can generate authentic-looking material on any topic using powerful algorithms.
Framework:
Most sales copywriters use the same formula. It's time to stand out in your marketing efforts with these tried-and-true tactics.
Peppertype.ai helps you create high-quality content, increase conversions, and stand out.
Product Reviews:
Customer reviews are a critical element of the buying process. They impact your purchasing selections and assist you in making well-informed decisions. But, most product reviews on Amazon, Yelp, Google, and Facebook are false and useless. Most people don't have time to write nice reviews for every item they buy online.
Peppertype.ai is an AI-powered bot that generates high-quality text-based product reviews. They used over a million honest Amazon, Yelp, and other user-generated product reviews.
Pros of PepperType AI
I can rely on Peppertype to generate tons of high-quality copies in seconds.
It allows me to focus on other more vital activities for my company.
Peppertype.Ai saves time during the content writing process.
It generates high-quality material in a split second. It includes a fantastic AI content system.
Peppertype.Ai Review has a clean dashboard and allows you to view the team's analytics.
I'm glad that this has implemented now, as it will develop over time.
Overall, I had a terrific time and would recommend it to others.
Cons of PepperType AI
Some captions contain figures without sources, making them unusable.
When it comes to content suggestions, it's a bit hit-or-miss.
On the grammar front, additional improvement is needed. There are several typos and errors.
Peppertype.ai Alternatives 2022
Here are the top 10 alternatives to the Peppertype.AI copywriting tools in 2022.
Jasper.ai: Best Peppertype.AI Alternative!
ClosersCopy.com: Advanced AI Tool
Frase.io: Good for SEO content
Outranking.io: Good for content marketing
Rytr. me: Easy to use
LongShot.ai: New AI Tool
Writesonic
Nichess
Article Builder
Peppertype.Ai Pricing
Peppertype.ai lets you build 35+ varieties of SEO-friendly content copy.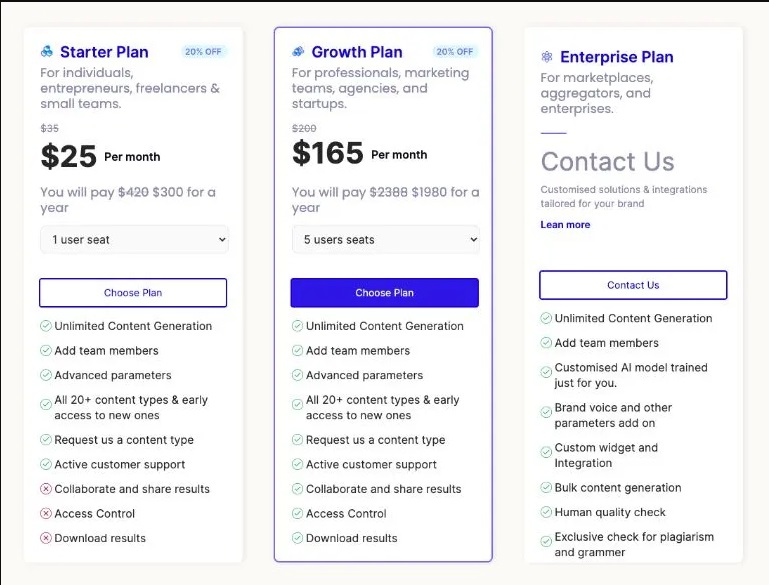 Starter, Growth, and Enterprise are the three pricing tiers available.
Starter Plan $25/mo:
One user seat
50,000 words per seat
Add team members
Advanced parameters
All 20+ content types & early access to new ones
Request us a content type
Growth Plan $165/mo:
Everything Starter Plan Features
Five user seats
50,000 words per seat
Collaborate and share results
Access Control
Download results
Click here to see other pricing plans;
Or, Get a Peppertype Lifetime Deal from Appsumo only for $59.00.
Peppertype.Ai AppSumo Lifetime Deal
Are you ready to jump off the content development treadmill? Why not enlist AI's assistance if you're overwhelmed by the sheer volume of unique content you need to develop for your company?
You can create the content that your audience wants to read in seconds using Peppertype.ai!
Conclusion
Is it genuinely worthwhile to you? Maybe.
Peppertype.ai makes it simple to create content copy and eliminates the need for extensive research. Fill in some basic information, and you'll have high-converting content in no time.