If you know anything about digital marketing, you've heard of ClickFunnels. A landing page builder that was one of the first to create online sales funnels. In this post, we dig deep into the good and bad to find out if ClickFunnels is a real piece of business marketing software worth trying or overhyped.
Since it started, ClickFunnels has become one of the biggest marketing SaaS (Software as a Service) companies in the world. People love ClickFunnels because it's all about making money for its users. It's about giving businesses software that helps them turn site visitors into customers. There's no surprise that ClickFunnels has grown so much in such a short time.
It's definitely popular, but does that mean it's good? How much can we trust what everyone says about this? It looks like another website or landing page builder. What makes it different, and should you add it to your marketing stack?
In this article, I'll tell you what is ClickFunnels. What its pros and cons are, what its features are, how good its customer service is, and so on. This review based on my own experience with ClickFunnels' StartUp plan, which includes the core ClickFunnels features and a lot of other bells and whistles. I'll also mention other reviews I've read, since not all users will agree with my final verdict.
No matter if you use it or not, it's an important player in e-commerce and online marketing that you should know about. What's our score before you jump in? It gets a solid 4 stars from me. Even though there are some problems, it's good. Find out why by reading on!
Your marketing funnel needs help? Click here to get in touch with our digital marketing agency for a consultation. The Digital team can help with design, copy, and all the technical stuff. Book a marketing consultation right away.
What is ClickFunnels?
ClickFunnels started in 2014. But in few years it has revolutionized the online marketing industry, according to Forbes. It makes it easier for businesses. And entrepreneurs to sell things online using marketing tools called "sales funnels," which are usually hard to use.
Russell Brunson, who made ClickFunnels, is as well-known as his company, and for good reason. He has made a lot of money, both from ClickFunnels and from other marketing projects. He tried email marketing for a while, and then he started to get the hang of sales funnels.
Russell Brunson wrote the best-selling books DotCom Secrets, Expert Secrets, and Traffic Secrets. Which explain how he does his marketing. His fans love these books, and they show people how to do what he does. You can get Dotcom Secrets for free on his website or on Amazon, where it has over 400 reviews. Here is where you can get Expert Secrets for free from his website or from Amazon.
ClickFunnels began as a way for Brunson and his team to make funnels for different businesses. Usually, making funnels took weeks. But they soon realized that their idea could help other people and could be a great product.
What Are Funnels? How Sales Funnels Work?
Before we go any further with this ClickFunnels Review, let's define what is a marketing funnel ? Marketing funnel is a process that turns people who don't know you into customers. In e-commerce, a sales funnel is a set of steps that lead a website visitor to the page where they can pay for something.
There's a more interesting way to look at it.
Step 1: Imagine a funnel.
Step 2: Imagine that this funnel is a metaphor. And that instead of pouring real ingredients down it. You are pouring metaphorical ingredients, which you call web traffic or site visitors. People are looking around your site and checking things out. Your website looks great, and the information on it is top-notch.
Even so, few of your visitors will buy from you because of that. If you had a real store, that would be like people coming in but not knowing where the cash register is. So they don't buy anything and leave. In a real store, you can convince people to buy something by talking to them. In an online store, you may be a little less close to your customers. This is where your funnel comes in. It made to appeal to your customers by using psychological principles. Step by step, the funnel brings visitors closer and closer to a payment page until they get there.

If you think this sounds cool, you're right—become it's a big deal for online marketing. Russell Brunson didn't make a lot of money by selling ClickFunnels technology. He also used it himself.
Pros of ClickFunnels
ClickFunnels meant to save you time and energy by letting you do things that would need a lot of tech skills & number of third-party apps. In this way, ClickFunnels works well.
Helps you Make Money
ClickFunnels' focus on producing money for the consumer is one of its best features. They make it easy to set up an account, post content, and start getting paid. Also, it's not hard to figure out how to do most of what you need. It might take you a couple of hours at most.
Drag and Drop Builder
There are a lot of useful things here. I like that it's easy to make copies of pages and that I can save templates to use again in the future. Their page builder is an important part of their site, and they've done a good job with it. Once you get used to it, the drag-and-drop builder is easy to use.
A/B Testing
A/B testing that built in is also great. All you have to do is copy a page, make the changes you want, and choose how many of your visitors should see version A or version B.
A lot of Great Integrations
ClickFunnels does a good job with API integrations. Email autoresponders and payment processors are easy to use and don't cause too much trouble.
Plugin for WordPress
You'll also find a useful WordPress plugin that lets you add ClickFunnels pages to your WordPress site. It saves a lot of time and makes it much easier to switch between ClickFunnels and WordPress. This plugin has over 20,000 active installations and rated 4.4 stars.
Everything
It's great to have everything in one place. I can build landing pages, make forms and order forms, and send emails all from one platform.
Reasonable Value
You can be sure that the lower-tier account is a good investment. Because the things you can do with a StartUp account are pretty good. ClickFunnels Platinum might not be too much to ask for if you have more than 20,000 visitors and need more than 100 pages.
Even though ClickFunnels isn't perfect, it does a great job of putting together great tools and making them easy to use. Most users wouldn't have as much trouble if they tried to manage funnels another way.
Cons of Clickfunnels
I have some bad news: ClickFunnels is strong, but it needs to improve in a lot of ways. A good ClickFunnels review wouldn't be complete without a look at its flaws as well.
Overpriced?
The price is a small problem. You can pay either $97 a month or $297 a month. This isn't a big problem. It's another investment in your business, and as I've already said, it comes with a good package.
Not Very Good Customer Service
Aside from that, customer service is at best iffy. I've seen, they're fine with simple questions. But they're not very helpful if you ask them hard questions, especially about more advanced features.
If you fall into one of their traps, it's hard to get away from all the hype. They definitely have great marketing. But from a user experience point of view, it can be annoying. Once you sign up for the software, you can try to look at its aim features and work them into your own workflow. If you can't, you'll lost and have to learn Russell Brunson's marketing methods.
This means you'll end up buying online courses, books, and seminars and getting sucked into the ClickFunnels. People post about how much money they made. And show off their sports cars in their Facebook Group, which has more than 100,000 members. Even though these numbers are real, it seems like the users are more interested in making money. Than in making great products and services. People have done great things with ClickFunnels. But it has also helped spread get-rich-quick schemes, online courses, too many coaches and experts.
We all know that the founder is a marketing genius, but so much of the product tied to his brand and his ideas. Even though I like the landing page builder. It seems like everything else is an extension of Brunson's platform.
Too pre-made
This one has less to do with ClickFunnels and more to do with the community. ClickFunnels gives you a lot of ways to change things, but many people use the same designs. Due to how popular ClickFunnels is, this has led to a lot of looks that are like ClickFunnels. Diversity is a big deal.
Breaks in Software and Bugs
From time to time, ClickFunnels will go down or have some problems. Even though this doesn't happen very often, you can't do much but wait. If you spend a lot of money on advertising or getting people to your funnels. And a ClickFunnels bug takes down your pages for even a few hours, you could lose a lot of money.
Also, it's hard to know if your pages are working. If you check them all the time or wait until angry customers tell you. When I use the HTML publishing option to copy pages, I also have to deal with some bugs.
User experience changes… a lot
The dashboard changes often, as does the way you make new pages and funnels. A button will move around, pricing options will change, and so on. It seems like ClickFunnels is still figuring out how to do things. I like software that works the same way every time, especially if it's a business solution.
I've heard that it's too simple and too expensive, but I don't agree with that. Most of these complaints are about DIY methods. Which can be cheaper up front and give you more control over how to handle certain details. But I wouldn't stress this too much for less experienced users who are looking for efficiency and a set of tools that is easy to use.
ClickFunnels Pricing – How much is Clickfunnels?
There are two pricing plans for ClickFunnels:
The Clickfunnels Standard Plan and the Clickfunnels Platinum Plan. Even their basic plan starts out more expensive than most. Clickfunnels costs $97 per month, while Clickfunnels Platinum costs $297 per month. For what it's worth, you can try the service for free for 14 days, so you don't have to sign up for a pricey plan right away. If you pay for ClickFunnels or Platinum once a year instead of every month, you get two months free.
Well, some people would say that, and especially when you compare it to LeadPages. Its a similar, but not the same, service that starts at $25 a month. But keep in mind that ClickFunnels' main job is to make funnels work better, and it does a pretty good job of that. I think it's a good way to spend money.
The main differences between a standard account and a premium account. The standard account only has 100 pages, 20,000 visits, 3 custom domains, and some of the full list of features. The premium account, has access to all the features.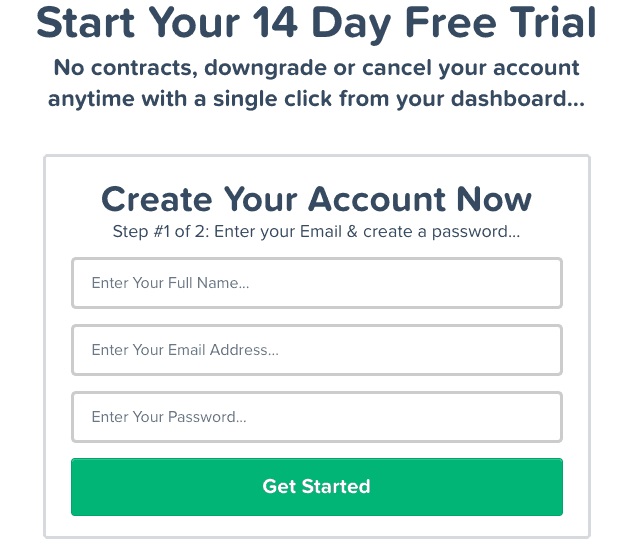 But both plans have unlimited contacts and members. As well as all advanced funnels, A/B split tests, and a few other things in common.
Platinum has all the features, including:
One-time payments (a Backpack feature that lets you set a product as a one-time payment product for your payment gateways); subscription plans (another Backpack feature that lets your customers pay for a subscription service); 3 SMTP integrations (StartUp only has 1); unlimited funnels, pages, visits, and custom domains; priority support and template requests; and more.
To sum up the differences, the basic Clickfunnels plan has (you guessed it!) the core feature of ClickFunnels, which is also called ClickFunnels. Easy! Platinum, bundles the main tool, ClickFunnels, with two other services, Followup Funnels and Backpack, and gives you the full set of ClickFunnels features.
Overview of Features—ClickFunnels Review
How are the features of ClickFunnels as a whole? They're good, and you get everything you need. Most of them are easy to use and give you a lot of control. This shown by the template editor and the integration management system. Both of these are very important features, so I'll talk about them in their own sections.
A/B split testing is a smaller but still important feature
If you make a copy of a page and change the copy, the split test lets you choose how much of your traffic you want to see on each page. This makes it easy to test conversion rates. It's a great feature that's very simple to use.
I also think that ClickFunnels is easy to use and flexible for other settings, such as your account information or integrations. People who know a lot about technology might find them too limited. But since the service supposed to be easy to use, I thought the basic features were pretty good.
There are a lot of different kinds of pre-made funnels for different kinds of businesses. And you can also make your own funnel from scratch.
Backpacks and Follow-up Funnels
I'll talk about ClickFunnels Platinum in this Clickfunnels Review. ClickFunnels Platinum, is a bundle of three products: ClickFunnels, Followup Funnels, and Backpack.
What are Followup Funnels?
Well, it's a little more complicated than what most people would call an email auto-responder or an auto-responder. Followup Funnels' main goal is smart analytics that lead to smart auto-responding. The auto-responding includes both snail mail and email, as well as a few other fun things. Backpack (called Backpack CRM) is a tool that comes with Followup Funnels. It meant to make managing an affiliate program easier and more efficient.
Here's everything that StartUp has to offer:
– 20 funnels
– 100 pages
– 20,000 visitors, as many contacts as you want
– 3 custom domains
– Split A/B tests
– Integrations with email
– Optin funnels
– ClickPops
– All advanced funnels on ClickOptin
– Sales funnels
– Membership funnels
– Members without limit
– Auto webinar funnels
– Hangout funnels
– Order pages
– Upsell pages
– Pages on sale
– Share your funnels
– 1 integration with SMPTP 1 integration with billing per type
Here, you can see a full list of both ClickFunnels and ClickFunnels Platinum features. If you can afford to try Platinum for a while and you need a quick and easy way to boost sales, you'd shorted. In the same way, Followup Funnels and Backpack are so important that you can't do without them. For most people, the Standard Clickfunnels plan will be enough.
Clickfunnels Page Builder
This is the best thing about ClickFunnels, so I wanted to pay extra attention to it. In fact, a big reason I gave ClickFunnels a high rating is because it is a great landing page builder. ClickFunnels separates it self from page-building software and promotes its funnel approach. But the truth is that I use it for this landing page builder.
Anyway, there are a lot of good-looking templates, but, as you might expect, only the ones that ClickFunnels makes are free. The templates are set up by funnel type, so it's easy to look around.
You can also save some templates and make your own personal page templates, which are easy to find. You can change basic settings and open the editor, as you can see.
When you open your pages in the editor, you'll be working with drag-and-drop builder. It's a little more complicated than some other simple page builders, but it's still easy to use.
The editor uses a page structure with sections, rows, columns, and elements as its main parts. Imagine that these parts fit into each other (this article has a helpful diagram). Basically, sections hold rows, columns, and elements. You can have many sections per page. Rows and columns both go in sections, but columns go in rows more than rows do columns. You can have a row with one column or up to four columns this way. Elements are the interactive parts that go inside columns and make your page more fun for people to look at.
It might sound hard, but it's not too hard to figure out. Everything marked with a color. For example, in the screenshot above, the selection is a light green box because it's a section. But it would be orange if I was hovering over an element.
You can also use the side bar to make changes by section, row, column, and so on. All your page's little parts and details can moved or changed. The template editor gives you a lot of ways to change things, but it also gives you good control. You can make mobile previews, change colors, text, settings, and anything else you might want to do. You can also add your own CSS, JavaScript, and HTML if you know how to code.
A small complaint I've heard about the builder. But don't have myself, is that it works like a grid, so you have to work within the columns and rows. This is a big deal, and the builder gives you enough control without making it hard to use, but it might be worth mentioning.
I like the page builder a lot as a whole. It makes it easy to design your landing page and helps ClickFunnels reach its goal of making it easier for you to make money online.
ClickFunnels Integrations
Integrations are exactly what they sound like:
They are other marketing tools that you can add to the ClickFunnels software. You can add integrations to your ClickFunnels account in a few different ways: via email, webinar, SMS/text, and actions. For instance, you could add MailChimp to your ClickFunnels if you like their auto-responding software and are already signed up with them. ClickFunnels has a lot of well-known partners that are easy to add to your integrations. Here's the complete list:
– Campaigns in Action
– Aweber
– Constant Contact
– Convertkit
– Drip
– GetResponse
– GoToWebinar
– GVO PureLeverage
– HTML Form
– HubSpot
– InfusionSoft \sInterspice
– Mad Mimi
– MailChimp
– Maropost \sOntraport
– SalesForce
– Sendlane
– ShipStation
– Shopify
– Twilio Webinar Jam Studio
– YouZign
You can search for these in your integrations section or click the search bar to see them. It's pretty easy to figure out; click on the one you want to add.
Managing integrations is also easy, but you might need to look at the documentation for your third-party software to find out what ClickFunnels needs. In general, the process will be pretty easy. Integrations are a little more technical than some other features, like the page builder, so it's great to have a very easy way to add and manage them.
Payment gateways go along with integrations. Payment gateways are usually called integrations on other software platforms. But on ClickFunnels, they have their own section. They may also alled billing integrations by ClickFunnels. Payment gateways are exactly what they sound like: they are the ways that your customers can pay for the things you sell. If you don't use a payment gateway, your shop won't be much of a shop at all.
You can add the following payment gateways:
– Stripe
– Infusionsoft \sWarriorplus \sJVZoo
– Blue Snap ClickBank Taxamo Ontraport
– Easy Direct Pay NMI Recurrence
Managing all these integrations is pretty easy. As long as you're all set up with the tool you want to integrate with, you shouldn't have any trouble adding it to ClickFunnels. From what I've seen, these integrations usually work well, so I wouldn't worry too much about them.
Ease of Use – Review of ClickFunnels
If you haven't figured it out yet, the main selling point of ClickFunnels is how easy it is to use. As their ad says, "Don't waste any more time with "tech guys." As I've said in this review of ClickFunnels, the main service ClickFunnels provides is tools that help people who are less skilled save time and money. So, it's pretty important to look at how easy something is to use.
It's easy to use, but you should still have some experience.
Longer answer: For someone new to the world of e-commerce and marketing. It might be a bit overwhelming at first, but it's not impossible to learn. Most people should be able to learn it in a couple of hours at most. If you're behind, you should get one of the books by Russell Brunson that mentioned earlier in the review.
Anyway, ClickFunnels makes it much easier to make funnels than it is to make them on your own. They have a fair amount of documentation. It may not be perfect, but it should answer most of your questions. And if it doesn't, you can always talk to a customer service rep.
Even with all that, some parts of ClickFunnels are easy to learn. The funnels, which are the main parts of ClickFunnels, are pretty easy to manage. From choosing templates to using the drag-and-drop editor. It's easy to get to all parts of managing your funnel thanks to a consistent menu. Some settings, like those for email integrations or payment processors, will need a bit of knowledge, but you won't need as much as you would to code the funnels. You can find out about these things by Googling or visiting the docs center.
In the end, ClickFunnels is not easy to use, but it streamlined and has an easy-to-understand interface. They do change things a lot, but it won't be enough to make your life hard.
We give it a score of 4/5 for how easy it is to use. It gives you a lot of options and lets you customize them to your needs. It's easy to use, but I would recommend that anyone who wants to use it has at least a basic understanding of technology.
Who can use ClickFunnels?
Who can get the most out of ClickFunnels? In general, small businesses and new businesses will use it the most. I know this from personal experience. There are different types of funnels, and some are better for some businesses than others.
ClickFunnels would likely work best for consultants, speakers, coaches, professional service providers, people who only do e-commerce or network marketing, and even people who offer services to other businesses. ClickFunnels works well for people who sell creative products or run their own businesses. The pre-made funnels are very focused on these industries. For example, if you're a florist, you might find that the pre-made Daily Deal Funnel is a good way to market your business. There would also be good support if you were trying to make everything about you and your brand. The same is true for people who sell things like books or courses.
You can always start with a blank funnel, and you should decide if ClickFunnels is right for you based on their default funnel types. If you have a small business and don't mind the price and you want to get more out of your traffic. You'd be wasting your money or time with ClickFunnels. I'd recommend it especially to anyone who wants to keep a better landing page.
Customer Service – Review of ClickFunnels
Customer service at ClickFunnels has a lot of different parts. I like that ClickFunnels has good documentation on its website. Their documentation is almost on par with what SaaS companies usually do, but it's still good enough. On their docs page, there are many different categories, and each one has its own articles. It may be simple, but it has some good things to say.
As for direct customer service, they have a chat feature in the dashboard after you log in, but I'm not too happy with it. In general, they've been helpful for simple questions and simple fixes… But when I've had more complicated questions, they haven't helped me much. When I had a question about HTML publishing, it took them three months to answer. By then, I had found a way around the problem. Most users won't need that level of help, and to be honest, most SaaS companies don't offer it. So I like that ClickFunnels tried.
I've also noticed that reviews always mention bad customer service. Customer service representatives told to be unresponsive or unhelpful. Especially when features did not work as promised or when strange things went wrong on the site. A well-known reviewer talks about how some of his clients locked out due to site errors and how they only got access to content for paid members. When he called customer service, they were rude and didn't help him. Even though it seems strange and unlikely, it shows the point.
Overall Rating of Support
I wouldn't say that ClickFunnels' customer service is bad. The team understands that their services aren't always easy to use. Or that they use tools that are new to their customers. And they've put enough resources into their support to make it decent. At least simple questions will answered, and they're usually pretty quick to respond. Most users, including myself, wouldn't say that ClickFunnels' customer service is great. But it meets the bare small, which is good enough. We give it 3 out of 5 stars in this area.
In Conclusion – Review of ClickFunnels
So, what's the big picture conclusion? It's good—4 stars out of 5! It is a real piece of marketing software that you should try out.
Yes, there are some bad things about it:
If you want a more flexible, hands-on way to market your business. You might want to look into third-party options that you can link together. If you still decide to use ClickFunnels, you might have bad luck and have to deal with unhelpful customer service reps or bugs in the software. You might also not like how they talk about themselves.
But what do you know? Taking everything into account, any of these negatives outweigh the good landing page builder. Or other good things like the short learning curve, good integrations, and good templates.
ClickFunnels achieves its main goal, which is to make it easier to direct traffic and increase conversion rates. Even bad reviews of ClickFunnels admit that it can be helpful for business owners who aren't as familiar with the internet. I'm pretty sure that the page builder gives enough options for most people who might want to use it. ClickFunnels is a great tool if your main goal is to find a simple but effective sales solution or landing page editor. After all, it hasn't become so popular by making empty promises, so I'm giving it 4/5 stars for that reason.